When you first buy a home, getting approved and signing your mortgage can be exciting. You've worked hard, and now, you can enjoy what being a homeowner has to offer.
However, the market is constantly moving and what was a great deal two or five years ago may not be today. Maybe your credit and debt-to-income profiles have changed and are in better situations now, or maybe your employment is more stable. Whatever the case may be, its always best ensure you are in the best scenario possible.
Thankfully, negotiating a better mortgage rate for your home isn't as difficult as you think. Mortgage refinance companies can lend you some incredible insights and help you devise a plan that puts you in the best position to succeed, and most of all, save money for the future. If you're curious about how you can negotiate a better rate for your home, then here are 4 simple steps that you can take to refinancing:
1. Get Your Finances in Order
Before you even contact a mortgage lender, be sure to conduct a thorough check on your finances. Research whether or not your credit score is where you need it to be, know how much of your mortgage has been paid off and what's left to refinance, and make sure that you don't have any outstanding payments to resolve. You can check your credit score and other metrics online in just minutes for free from sites like Credit Karma to help you get prepared.

Next, you'll need to gather some documentation to analyze your finances. For income, you'll most likely need pay stubs for the last two months, bank statements for the last two months, and tax returns for the last two years. For debts like credit cards, auto loans, student loans, and your current mortgage loan, you'll need your two most recent statements.
2. Get a No Cost, No Obligation Quote from US
Armed with the information you gathered in Step 1, you can get a quick and easy quote by phone or online from US Mortgages. This is also a good time to talk to a Salary-Based Personal Mortgage Adviser and get any and all of your questions answered before you actually apply for the refinance.
By talking to an experienced lender, they can provide you with information that you may have overlooked. Not to mention, they can also suggest better alternatives to your current rate plan and offer helpful tips to ensure that your odds of getting approved are stacked in your favor. The best part is that consulting with an advisor is totally free, which means you can rest assured that you're working with someone who is both salary-based and has your best interest in mind.
3. Apply For Your Refinance
After your consultation, you're now ready to complete the application for your refinance, also known as a 1003, in mortgage speak.
To give you an idea of what you'll encounter, the application will mostly ask questions about your current financial position. There may also be questions about your current loan and your home in general. This is when you'll provide your financial documentation to the mortgage lender for review.
Submitting the application also gives your lender permission to run your credit (quite often, what you think is on your credit report and what shows up can be very different), confirm your employment, and order an appraisal if you're taking cash-out to confirm the current fair market value of your home.
After everything is complete, the only thing left to do is to finalize some paperwork and settle your closing costs.
4. Closing on Your Refinance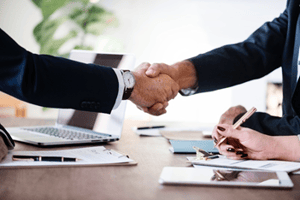 There will naturally be a little bit of legal paperwork that will need to be signed before your refinance can officially close.
Make sure you have a government-issued photo ID (driver's license, state ID card, or passport) with you. Your Personal Mortgage Adviser will let you know if you'll need to bring a cashier's check to cover closing costs if you choose to pay them out-of-pocket rather than rolling them into the new mortgage. It's also a good idea to bring a copy of your signed Closing Disclosure from the lender so you can double-check the final paperwork.
The entire closing process shouldn't take more than 30 minutes, and afterwards, you can focus more on enjoying your home than trying to afford it.

Call US Today to Learn More
Nobody should have to pay more for their home when they don't have to. With US Mortgages, you can discover new ways that make your home more affordable, and most of all, better positioned to be completely in your ownership in a quicker amount of time.
Rather than worrying about the obstacles, take a few minutes to contact one of our mortgage lenders to discuss your concerns. We offer a no cost, no obligation quote that you can use to put your current mortgage into perspective, and when you're ready, our team will guide you along the way to a stronger financial future.
Are you ready to see what opportunities are ahead?
Refinance FAQs