Buying a home may be one of the most overwhelming (but rewarding) milestones in your life. Add in challenges such as tight timelines or having less-than-perfect credit and those feelings may paralyze you from pursuing your dream home.
Unfortunately when it comes to credit scores, there is no "magic number" you should shoot for since there are many loan types and assistance programs that you should take into consideration.
Regardless of our score, there's no reason why you should feel like you can't buy a home! Below we dive into details to help put you (and your credit score) in the best position to work with a mortgage lending company.
What's the Minimum Credit Score Needed for a Mortgage?
Many lenders differ in what they consider to be acceptable. There's some debate that states the minimum credit score that will get you approved for some type of mortgage loan ranges between 500 to 580. But keep in mind – the lower your credit score, the more you'll be expected to put down as a down payment.
What Kind of Loan Can I Get With My Credit Score?
When it comes to FICO scores, you'll want to consider the following mortgage loans according to your credit score: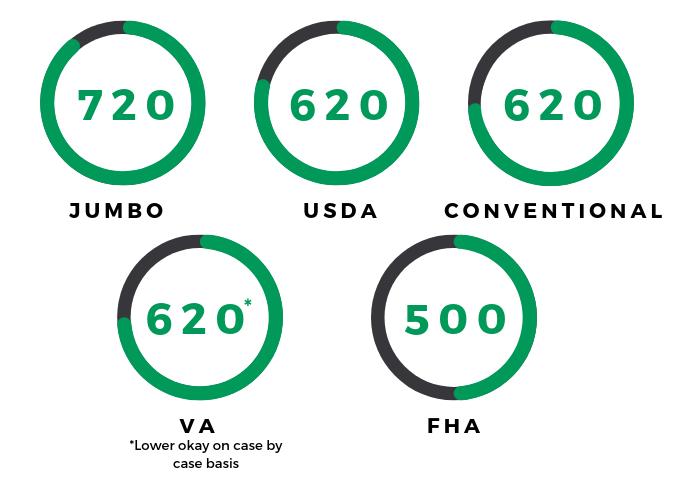 You'll find different credit requirements with varying lenders, and there are of course compensating factors that lenders take into account. Here at US Mortgages we work with individuals that have a credit score down to 580 (and lower on a case-by-case basis), so don't let a past problem keep you from getting started. Even if you're struggling with your credit score, we can get you on track! If you're wondering what your score is, check out our handy tool below.
5 Tips to Improve Your Credit Score
With just a little work and patience, you'll be well on your way to improving your credit score and qualifying for a mortgage. Just take a deep breath and work on some of the following tips:
Keep your credit utilization down. Pay down the balances as low as possible, or consider paying off your debt with the lowest balance.


Get up-to-date and pay your bills on time. Try setting up automatic bill payments and reminders!


If you're having cash flow issues, call your credit provider to request they change your payment due date.


Co-sign or become an authorized user on a family member or friend's loan or credit card. Their positive credit history will help improve your credit report!


Dispute inaccurate and/or "old" information that's hurting your credit score.

When you work with US, you're not alone in the process. Our Personal Mortgage Advisors are more than happy to assist you along the way! Additionally, by following the steps above you'll be able to get your credit up in no time and in the home of your dreams.