You've decided you're ready to buy a home. You drive through your dream neighborhoods, watch insane amounts of HGTV, and stop by the occasional open house. Sound like you?
Daydreaming about your new home is a lot of fun. But there's a process to follow in order to make home buying as smooth and seamless as possible and it all starts with getting pre-approved for a mortgage.
First and foremost, start with finding a qualified Denver mortgage company. The realtor comes second or maybe you know who the realtor is already but know that you cannot put in an offer until you are pre-approved with a letter in hand. Having this pre-approval letter will make it easier for you to negotiate with the seller.
Here's a general idea of how that works.
When you locate the lender you'd like to work with, you will meet with your loan officer to discuss loan options and your financial profile. The lender will run your credit and notify you if there are any problems. The lender will then tell you the maximum amount you can borrow, which will also help you understand the price range of homes you can look for. Word of caution -- just because you are pre-approved for a pricey house doesn't mean you should buy the pricey house. You should estimate your comfort level with the payment considering all of your other financial obligations and potential new home ownership expenses. The general recommendation is to be more conservative with your spending which will prevent you from being house-poor.
Okay, now for a more detailed look into that process. Below are six items you'll need to have to get pre-approved for a mortgage.


1. Proof of Income
Naturally, you will need to prove you can afford a home. To do so, you will need to provide your lender with W-2 statements from the past two years, along with recent pay stubs that state your income. They will also want proof of any additional income such as alimony, child support or bonuses.
2. Proof of Assets
Your lender will also need to see your bank statements as well as any other investments you may have. This will prove that you have funds for the down payment and closing costs, as well as cash reserves.
3. Down Payment
Depending on the loan type, a down payment will be a percentage of the selling price. If you don't have at least 20% saved for your down payment, most loans will require that you purchase private mortgage insurance (PMI) or pay a mortgage insurance premium (MIP) and/or a funding fee.
There are other loan options such as Federal Housing Administration Loans (FHA), which were created for low- to moderate-income buyers or first-time home buyers. Veteran Administration Loans (VA Loans) are for U.S. veterans, active service members as well as non-remarried spouses and require no money down. Another way to come up with your down payment is to receive money from a friend or relative, in which case you may need a gift letter to prove that the funds are not a loan.
The chart below lists the most common types of loan as well as their basic requirements including the desired debt-to-income (DTI) ratio. Talk with your mortgage lender about any additional requirements that are not reflected here.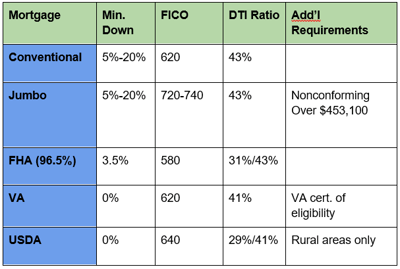 Don't let the down payment get in the way of you and your dream home.
4. Good Credit
It goes without saying that in order to purchase a home, you will need to have good credit. Most lenders will require a FICO score of 620 or higher for a conventional or FHA loan. The higher your FICO score, the lower your interest rate. Those with a lower credit score will also typically have to make a larger down payment. A benefit of FHA loans is that they will allow those with a 580 or above to pay as little as 3.5% down . If you have experienced some challenges with your credit, don't lose hope. Often times, lenders will have loan programs that can accommodate your needs while consulting you on ways to improve your overall credit profile.
Below is a chart that shows a hypothetical monthly principal and interest payment on a 30-year fixed interest rate conventional mortgage based on several FICO scores for three different loan amounts.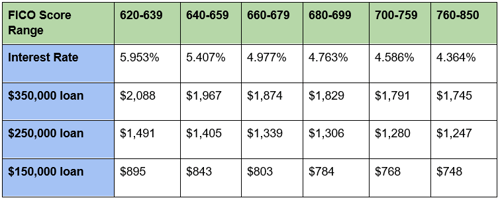 5. Employment Verification
In addition to seeing your pay stubs, your lender will want to call your employer to verify that you are indeed employed as well as confirm your salary. Those borrowers that are self-employed will need to provide additional paperwork showcasing their business and income.
Self-employed? Relax. We've just made it simple to qualify for a home loan.
6. Other Documents
In addition to the above, your lender will want a copy your driver's license as well as your Social Security number (SSN). Often times during the process the underwriter will want to see other documents to help along with your approval. Be sure to provide them with what they're asking as quickly as possible to avoid any delays.
Now you know how to get pre-approved for a mortgage and that working with a lender before you start the home-buying process will set you up for success when you're ready to put an offer on a home. At US Mortgages, we've been helping folks just like yourself get into the home of their dreams for over 20 years. There isn't a home loan or challenge we haven't worked through and we'd be honored if you chose US for your home financing needs.
Purchase FAQs