If you're in the market for a new home, chances are you're daydreaming about all the new memories you want to make. Backyard BBQs with friends, the new kitchen you're going to put in — the opportunities are endless. Looking for a new home can be a lot of fun. The financing part on the other hand, can be less than exciting.
But it doesn't have to be.
If you're active in the military or a veteran, the federal government offers a mortgage loan with attractive associated rates known as a Veterans Affairs Loan (or a "VA Loan").
A VA loan is backed by the Department of Veterans Affairs and is designed to help U.S. veterans, active duty service members, and un-remarried surviving military spouses buy a home.
Here's what you need to know about how a VA home loan works, and no — you don't have to only work with veterans administration lenders.
Benefits of a VA Loan
Veterans can buy a home with little-to-no down payment.

Lowered interest rates.

You can borrow whatever amount you need with VA loan. The amount of liability they will take on is addressed during the process.

Private Mortgage Insurance (PMI) is not required.

No minimum credit score requirement.

There isn't a prepayment penalty.
VA Mortgage Requirements
Credit requirements and costly down payments can make the idea of purchasing a home seem out of reach for many veterans and active duty military personnel. VA loans were established to ease this financial burden on the men and women who have already sacrificed so much for our country.
On the other hand, if you're looking to refinance your home, you have the opportunity to receive cash from the value of your home, while also restructuring your current mortgage into a lower rate (or for a shorter term). Fortunately, your current loan doesn't have to be a VA loan in order to refinance through a VA Cash-Out refinancing!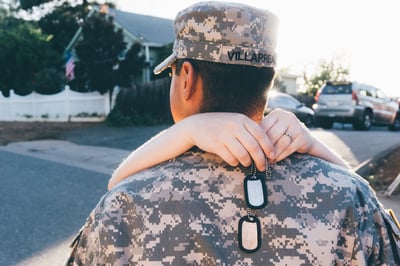 Eligibility Requirements for VA Loans
There are several specific qualifications to be met before being eligible for a VA home loan. The length of your service, duty status, and character of service all determine eligibility for home loan benefits. Below are just three categories that can determine eligibility.
Active veteran or active military member, or individuals that have been honorably discharged from any branch of the armed services.

The surviving and un-remarried spouse of an eligible veteran.

More than six years of service in the National Guard or the Selected Reserve.
Next Steps For Getting a VA Loan with US
We recommend getting all necessary paperwork from the VA before discussing rates and options. You can find out how to get your Certificate of Eligibility and other paperwork that is needed, as well as any other eligibility requirements, by reviewing the VA Benefits website.
At US Mortgages, we are proud to provide our veterans with access to VA home loans with little-to-no down payment, lower interest rates, and access to simple refinancing. You have served your country, now let US serve you.